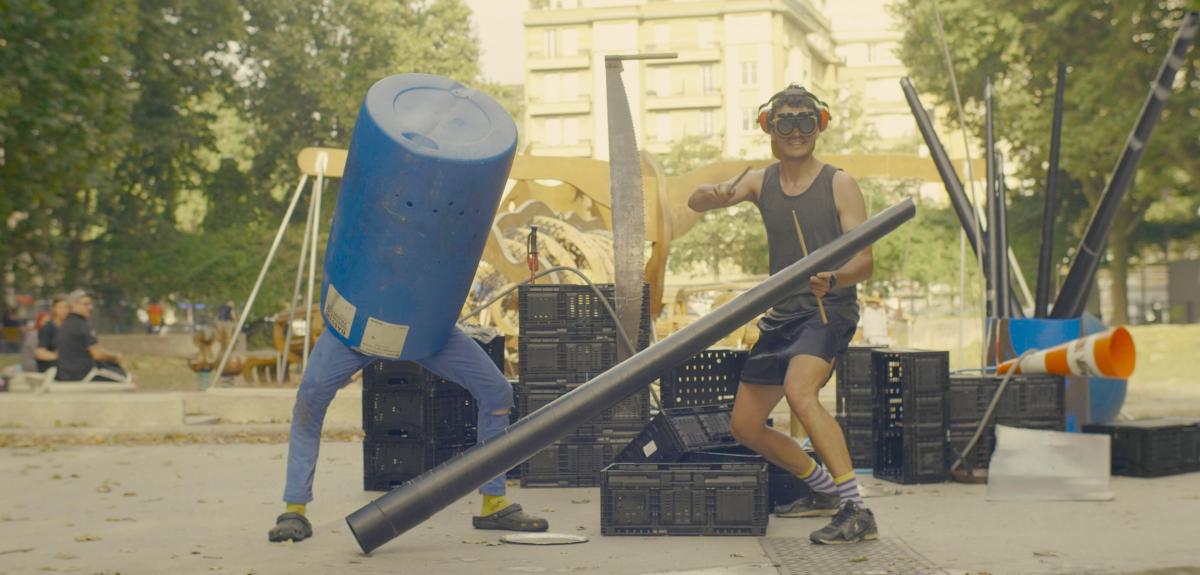 Available in 2024/2025
Biography
All audiences | All times | All terrains
Chattering building site blocks, a big blue walking can, giant magic pipes, a dangerous all-purpose saw, plastic crates hiding noisy treasures... 50 minutes of dialogue between extra-ordinary instruments with no words and no electricity so that everything comes together in a big collective techno boom boom climax.
"Saxophonist and percussionist, both trained at the Centre de Formation des Musiciens Intervenants in Lille, we've been practising DIY Music (making musical instruments and sound objects from salvaged or misappropriated materials) for many years with a variety of audiences: schools, colleges, youth clubs, music schools, festivals, and so on.
Over the years, we've accumulated a lot of odds and ends, materials, ideas and know-how: together we've created a duo combining all these instruments, and have decided to turn them into a fun, danceable musical show for children from nursery school to old people's homes!
Before the show, we can offer a music practice workshop (the Fanfare de Trufu) with homemade instruments for around 50 participants of all ages, who will accompany us in music for the show's finale!"
Videos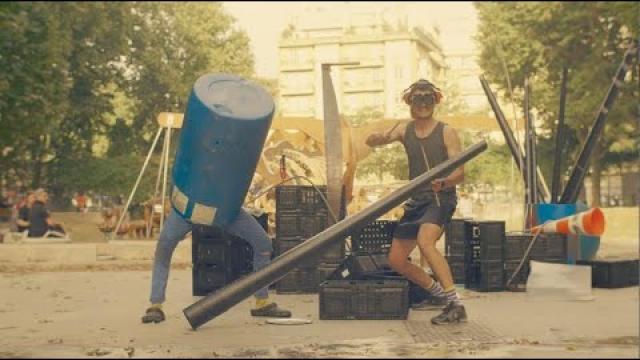 Concerts
Festival Merci Bonsoir ! - Grenoble (38)
Contrechamps, Journées du Patrimoine - Genève (Suisse)
Contrechamps, Journées du Patrimoine - Genève (Suisse)
Festival Merci Bonsoir ! - Grenoble (38)
Festival Merci Bonsoir ! - Grenoble (38)
Alpilium - Saint Rémy de Provence (13)
Festival Merci Bonsoir ! - Grenoble (38)
Festival Des Vertes et des Pas Mûres - Fareins (01)
Festival Des Vertes et des Pas Mûres - Fareins (01)
Contrechamps, journées du patrimoine - Genève (Suisse)
Contrechamps, journées du patrimoine - Genève (Suisse)
Rencontre des luttes paysannes et Rurales - Bure (55)
Festival Encore ! - Sarrebruck (Allemagne)
Festival Encore ! - Sarrebruck (Allemagne)
Espace 600 - Grenoble (38)
Destination été - Echirolles (38)
BrassHeureuses - Mens (38)
Le Spectaculaire Samedi - Boeschepe (59)
Le Utopitreries - Ruminghem (62)
Festival Sortilège, Rue et Vous - Ath (Belgique)
Ecole Jean Jaurès - Grenoble (38)
La Printanière - Ste Sigolène (43)
Festival Vice et versa - Bourg-les-Valence (26)
Festival Vice et versa - Bourg-les-Valence (26)
Festival Vice et versa - Bourg-les-Valence (26)
La Bobine - Grenoble (38)