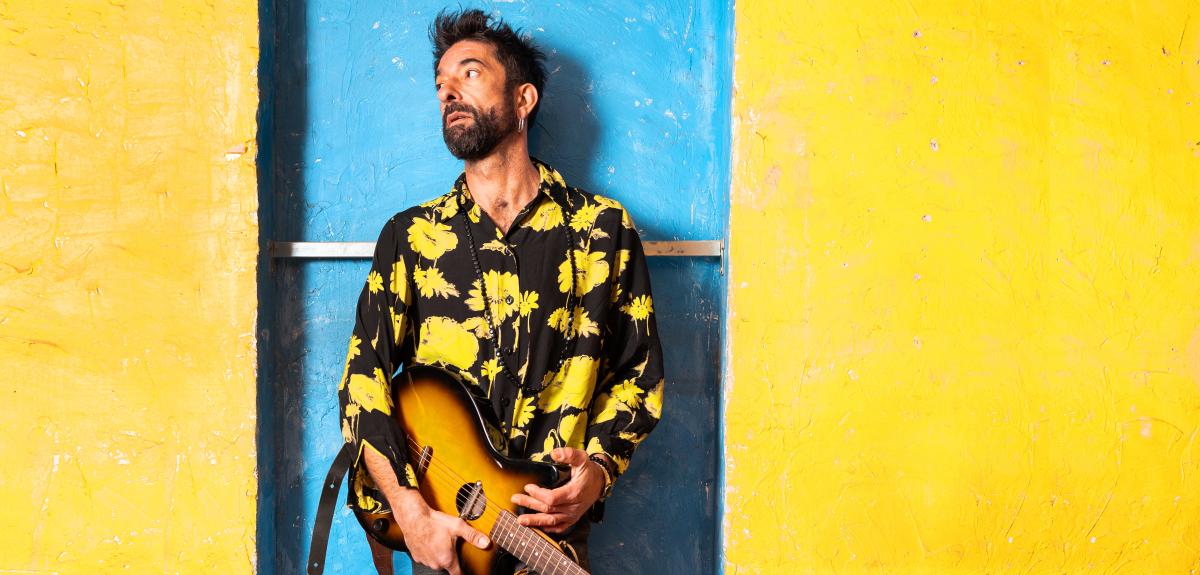 Available in 2024/25 >> Tour for the release of the new album (Blue Shine, April 2024)
The private link to the premix of the new album is available on request from julien@ateaprod.com

Biography
"As far back as I can remember, I've always questioned my identity.
My Iranian parents, forced into exile by the political turmoil of the 80s, were totally disenchanted.
As a child, I had to make my own way in order to understand the world around me.
My referees didn't have the keys and obviously had a hard time reconstructing a happy reality.
At home, it's Iran that exists: we speak to each other in Farsi, we eat Iranian food and we make a family as best we can. Outside, I'm French, or at least I try to be. But my face, my first name and all my intimacy are elsewhere.
So I observe and imitate.
I'm lucky, I have friends who adopt me, on whom I can lean, and little by little I discover myself and begin to exist on my own.
Disillusionment has taken over so much of our lives that there's nothing but violence and tragedy and life is becoming so heavy that I have to move away.
So I started writing and reading.
I discovered music. It swept me off my feet and I was happy to let it.
I go out and spend my time elsewhere, anywhere but elsewhere.
The nights are long and festive, I get a taste of the nightlife and I love it.
Music and other people as a refuge have gradually turned me into a multiple individual who is still trying to come together.
Today I'm releasing this second opus under my own name: like an affirmation.
A piece of identity that seems to be above all a joyful mess.
The Persian colours of my childhood, with which I live happily today, spring to life.
I've also put into it everything I've become, multiple, plural, nourished by my artistic and human encounters from Morocco to Cape Verde, from Lebanon to Guadeloupe, with music providing the link, with, always and forever: euphoria, beauty, freedom."
Arash Sarkechik
Concerts
Release à La Belle Electrique - Grenoble (38) TBC
Arash Sarkechik >> Bazaari
Le Café Zorba - Le Château d'Oléron (17)
Arash Sarkechik >> Bazaari
Grenoble (38)
Arash Sarkechik >> Bazaari
Les festives du balcon est - Château-Bernard (38)
Arash Sarkechik >> Bazaari
Studio RTS - Valence (26)
Arash Sarkechik >> Bazaari
Concert - Grenoble (38)
Arash Sarkechik >> Bazaari
La Crique Sud - Grenoble (38)
Arash Sarkechik >> Bazaari
Le Triton - Les Lilas (93)
Arash Sarkechik >> Bazaari
6Mic - Aix-en-Provence (13)
Arash Sarkechik >> Bazaari
Yzeron (69)
Arash Sarkechik >> Bazaari
Festival "Ah la belle saison" - Meythet (74)
Arash Sarkechik >> Bazaari
Festival Les Délices Perchés - Notre Dame de Mésage (38)
Arash Sarkechik >> Bazaari
Les Enchanteurs avec Delgres - Aix Noulette (62)
Arash Sarkechik >> Bazaari
Que des paroles en l'air - Cellule 133 - Bruxelles (Belgium)
Arash Sarkechik >> Bazaari
La Bifurk - Grenoble (38)
Arash Sarkechik >> Bazaari
L'heure Bleue avec Les Ogres de Barback - Saint Martin d'Hères (38)
Arash Sarkechik >> Bazaari
Le Tivoli - Montargis (45)
Arash Sarkechik >> Bazaari
La Maison sur la place - Ambrugeat (19)
Arash Sarkechik >> Bazaari
La p'tite Fabrique solidaires - Uzerche (19)
Arash Sarkechik >> Bazaari
Salle des fêtes de Chastang (19)
Arash Sarkechik >> Bazaari